How does Online Therapy work?
Talk to or correspond with a licensed Therapist from home
No transportation, no parking, no waiting time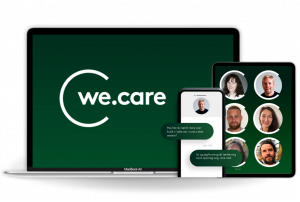 2 Types of Online Therapy
Face-2-Face Video Consultations
The video consultations are just like a traditional face-to-face conversation live via the webcam on your computer, smartphone or tablet. Just like e.g. Facetime, Teams, or Zoom, but only on We.Care's encrypted and secure platform.
> Learn more at see prices here
Text-Based Therapy
The written dialogue takes place like an email correspondence but on our own secure platform. The psychologist will answer you as soon as possible and no later than 24 hours on weekdays.
> Learn more at see prices here
Let your therapist come to you – no waiting period, it's easy and flexible.
Online therapy allows you to meet with your therapist in the safety of your own home or at any other location that fits you.
Several of our clients have consultations from their workplace in a quiet enclosed meeting room. Some even have consultations from other countries where they are posted, on vacation or on exchange.
Online therapy makes therapy more accessible for more people.
This applies, for example, to people with physical disabilities – permanently or temporarily. To people who experience barriers when getting out of the house during a sick leave or when they are dealing with stress or depression.
It's helping those who are severely limited by their anxiety about showing up at a practice or being among other people.
Our authorized psychologists will meet you online on your terms. As we do not have any waiting time, you can get started with your treatment immediately.
"The chemistry and alliance between you and your therapist is key to your process and recovery no matter what challenges you face. That is why finding the therapist who best suits you and your challenges is so important for us."
The alliance between you and your therapist is key
One of the factors that makes therapy work and helps you move forward is the relationship you build with your therapist. Chemistry is crucial to your process and recovery – no matter what challenges you face.
That is why helping you find the best possible therapist for you and the challenges you face is a major priority for us. Research shows 'chemistry' as one of the most highly rated factors by recipients of treatment, and just as highly as in traditional face-to-face therapy.
Recipients of treatment rate 'relationship' and 'presence' in video consultations just as highly as in face-to-face therapy across a range of diagnoses.